There are 4 main recording rooms available, plus an isolated booth.
Whether catering for one artist looking for the perfect room / acoustics for a performance or a full ten piece band wanting to record live together, we have the facilities to meet your needs.
Some artists have also taken advantage of our peaceful location and recorded outside, with great results.
LIVE ROOM 1
This is our main recording room.
500 sq ft with a floating wooden floor,
bass traps, natural light, air conditioning and
large window to Control Room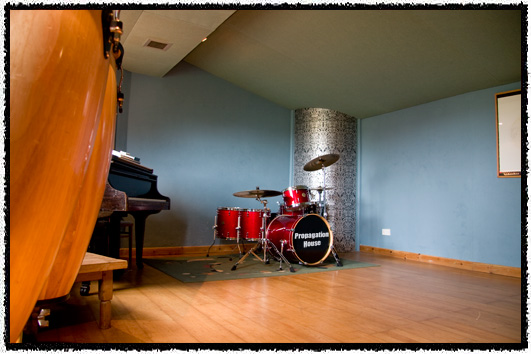 This room has a great sound for most acoustic
instruments.
And can be made dead with acoustic screens
We are particularly proud of the drum sound.





LIVE ROOM 2

This room is almost all wood.

There is a window to the Control room and
you can see into Liveroom 1 from here.





DEAD ROOM

The walls and ceilings are packed with
3 ft of rockwool which leaves this room devoid
of any reverb, ambience and interference.


Room size 10ft X 9ft.

THE MINSTRELS MUSIC HALL




Just 10 minutes from the studio we have the use of this lovely hall.
Privately owned and set on a farm out the way from anywhere,
its very unusual to find a room like this that's not in a town.
There is a Yamaha C7 grand Piano witch records extremely well.
The hall has quite a large reverb witch works well on most instruments.
It has floor space for up to 400 people about 2000 square foot.




THE PROJECT STUDIO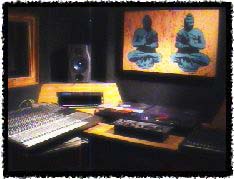 (fully networked to the main Control Room),
With natural light, air conditioning and windows to the Dead Room
and the Small Room.
This room can be used as an Amp booth or as a pre-production "project" area,
and is useful when mixing or mastering in the main
control room to listen to your track in another environment.
There are 2 Apple Macs with most of today's music software
and a good selection of games to keep you occupied.
Programmers / Producers can install their own equipment
and prepare their ideas before finishing then in the main Control Room,
There is also a set of 1210's for DJ's.
THE SMALL ROOM
This room is only 4ft x 9ft, but it has been acoustically treated and is useful as an
amp booth.
Residential Recording and Rehearsal Studios UK 2011